Provider Memo:
RE: DME prior authorization requests
To expedite the manual pricing process, Idaho Medicaid and the Medical Care Unit are requesting a change in how the DME requests are built and approved.
Effective Immediately:
All manually priced miscellaneous (MISC) and not otherwise specified (NOS) items, that have multiple prices per one (1) code, must all be entered as one (1) unit on one line.

Example: You are requesting a manual wheelchair and it requires multiple K0108 items (transit option, 5-point harness, and canopy) this is now all entered as one unit on one line. Please list all the items in the NOS description box.

If MISC or NOS codes for more than one identical item and the two items are the same price, please continue to request the specific number that is needed.

Example: You are requesting a miscellaneous hearing service on both hearing aids (V5299), and both have the invoice price of $100.00, the request is for two (2) units of V5299.
The two most common codes that this affects are:
K0108: Wheelchair Component or Accessory, Not Otherwise Specified

E1399: Durable Medical Equipment, Miscellaneous
Other codes this may affect:
V5299: Hearing Service, Miscellaneous

L8699: Prosthetic Implant, Not Otherwise Specified

V2799: Vision Item or Service, Miscellaneous
When entering a request, enter the code as one unit and list all the NOS items in the text box.

If there is a denial of one item, but an approval of one or more items, the outcome letter will say approved.  The denied item will be clearly stated in the rationale box.  You must read the rationale in full to verify what items are approved and/or denied.
Example of partial denial
Example of Full Approval: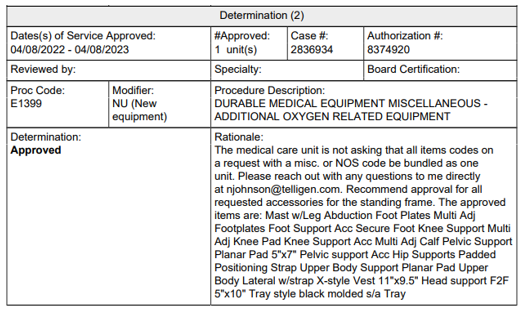 Do not re-submit any cases already requested.  The Telligen team will modify all affected cases in the queue.  For completed cases, the Medical Care Unit will continue to work on manually pricing.
Please reach out if you have any questions.